STRAND BUNGALOW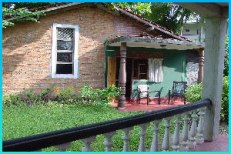 The two roomed Bungalow in the Garden is NO MORE !
IT WAS WASHED AWAY BY THE GIANT TIDAL WAVE ON DECEMBER 26TH
THANK GOD! The Australian Family who was in it was saved.
The Bungalow was a Sri Lanka Tourist Board approved
Bed&Breakfast Unit
The Picture on the left shows the Bungalow standing amidst the lush tropical foliaged garden, the center photo is of the main bed room and on the right the the empty space as it looks now.
Find out mOre about Unawatuna CLICK here